Has anyone used this product? What is your opinion of it? I am able to order it in the bulk bags (40 lbs. bags). If you are interested in this product let me know.
Info copied from website (http://www.cell-sorb-plus.com/bedding.htm):
Cell-Sorb Plus is ideal for all small animals....Gerbals, Mice, Rats, Hamsters, Guinea Pigs, Ferrets, Birds and Reptiles.
Cell-Sorb Plus is used as both a contact and non-contact bedding. The unique design of the product combined with the animals movement, allows feces droppings of many animals to work to the bottom of the bedding - out of contact with the animal.
Your pet lives in all natural bedding that keeps it healthier and happier, while you have less odor, less changing and use less product.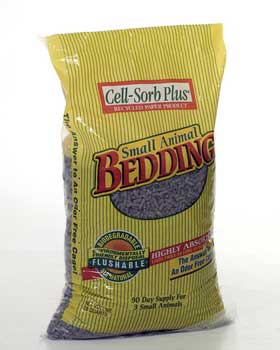 Haven't used it but did look at some reviews, most people give it pretty good props for being softer than yesterday's news brand, and being very absorbent to the point it can pull moisture out of feces and dry them quickly. I did read one review that claimed their rabbit ate some of the bedding when it was used in a litter box. Basically it caused a blockage and resulted in the death of the animal. Would appear that its best suited for smaller animals. Other than that most find it a good product that is pretty heavy and harder for a pet to kick out of the enclosure.
Thank you for you response and help. I am working with the manufacture trying to get the best price possible on the bulk 40 lbs. bags. Every place I see it for sale is at least $25.00 or more per bag. I'd like to be able to offer it for much less. I am going to pick up a bag and try it out.

---
Permissions in this forum:
You
cannot
reply to topics in this forum